Description
IAG Air / Oil Separator (AOS) For 2015-20 Subaru Impreza WRX
The IAG Performance V3 Street Series Air / Oil separator (AOS) is an excellent investment to keep your Subaru vehicle running well. The Street Series AOS maintains OEM PCV system functionality, but supplements its capacity. The Street Series AOS design is based on years of extensive testing on standard and competition applications. The Street Series AOS' large, 1-liter, cast aluminum swirl pot canister more effectively separates oil from the PCV system upstream of PCV gasses return to the intake system. The Street Series AOS' fully-heated cast aluminum housing, superior venting, and unique, patent pending, baffle design set it apart from the rest. The Street Series AOS is compatible with all fuel types, extends engine life, improves crankcase ventilation and is compatible with standard ECU calibrations.

Keeping Oil Out
Keeping oil out of the engine intake tract is extremely important towards preventing premature mechanical failure and maintaining performance. Oil in the intake tract of the engine has several detrimental effects. First, the oil coats the internal portions of the intake, intercooler, and piping. This oil may cause premature failure of rubber or silicone hoses, which leads to failed connections.

Once the oil reaches the intake tract it will directly enter the intake manifold and then the combustion chamber of the engine. Oil inside of the combustion chamber can cause detonation and preignition, high emissions, smoke, loss of power, decreased gas mileage, and even catastrophic engine failure leading to expensive repair bills.

PCV Recirculation
The Street Series AOS maintains the OEM PCV system functionality, but supplements its capacity. The Street Series AOS PCV discharge gasses return to the turbo inlet, retaining a PCV valve to draw additional suction, improving air oil separation. The Street Series AOS protects from oil dilution and lubrication failures in ethanol fueled application because the Street Series AOS captures fuel vapors out of the oil and returns these vapors to the intake tract for combustion. The Street Series AOS protects from both oil entrainment in the intake flow and oil dilution in the engine's lubrication system far better than the OEM PCV system alone.

Version 2 vs Version 3 IAG AOS
The most popular Subaru AOS is now even better! The IAG AOS body is completely redesigned using cast aluminum and features an integrated coolant passage for better heat retention. Additionally, the V3 AOS heating system is upgraded by relocating the coolant lines to the bottom of the body using new swivel fittings, and an integrated coolant bleeder. These heating system upgrades will allow for a cleaner installation and less condensation buildup in colder climates. The new compact body has the same 1-liter capacity as V2, but features a sleeker design and adds removable ORB fittings for greater versatility.

AOS TOP
True 360 Degree Rotating Breather Port
Dual Breather Ports
Greater Pressure Stream Oil Separation

Notice the dual breather port? At first glance you might think this is excessive, however, our reasoning is grounded in simple physics. As air and particles of oil enter into the AOS, the largest particles of oil will collect on the inner surface of the can and drain to the bottom, but the smallest particles will remain suspended in the pressurized stream.

As the air makes its way through the multi-stage baffle system, gravity pulls oil from the air. By increasing the overall volume of the breather opening on the top of the AOS, we have drastically decreased the exit velocity of the crankcase vent (CCV) stream. The slower velocity leads to greater oil separation from the pressure stream. A total of 20 mounting holes enable the breathing port a full 360° of rotation. On the top, a thick Viton o-ring seals the can. Every o-ring in our AOS is formed from Viton which offers superior temperature and chemical resistance.

AOS BODY
Compact Cast Aluminum Design
Approximate 1 Liter Holding Capacity
Integrated ORB Ports
Aluminum Body is powder coated in Red or Black Wrinkle Finish
The side of the AOS features 3 -8 ORB removable billet hose barbs.

The Subaru EJ engine has 3 ports that vent crank pressure: one on each cylinder head, and another on the top of the block. Each engine vent port receives its own connection to the AOS. By giving each engine port its own entrance to the AOS IAG has allowed for more effective and faster excavation of crankcase pressure. Additionally, this reduces overall system pressure. The AOS has an approximate 1 liter of holding capacity. The larger the AOS, the more power you can safely make in competition applications without having to worry about the AOS overfilling.

AOS BOTTOM
Unique Baffling Controls Crankcase Pressure
Returns Oil To The Engine
No Maintenance or Manual Draining Required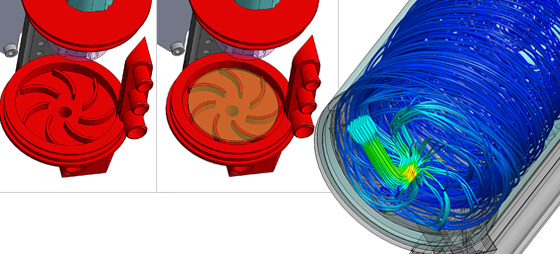 The bottom of the AOS is shaped like a snail, redirecting positive crank pressure into the same swirl pattern produced by the 3 side ports. This allows maximum oil drainage, while separating oil from the air in all the venting ports.

Why not use a catch can? Catch cans require regular maintenance and manual draining for proper operation. If the catch can is not drained often it may reintroduce oil into the intake when it overflows or create a mess in the engine bay.

The IAG AOS collects oil and actively drains the oil to the crankcase. The drain port is under the same crankcase pressure as the other ports that are on the side of the AOS. Under normal, off boost driving the weight of the collected oil will easily overcome the pressure in the drain line. However, under heavy boost (especially on higher powered competition engines) the crank pressure will push back up the drain with the same air/oil mixture that is seen on the side ports. The unique snail design allows the system to breathe without disturbing the swirl pattern.

AOS DRAIN PORT
The AOS drain port is able to be rotated for ease of installation, as well as pre-threaded to accept an ORB fitting if desired.

AOS FITTINGS
Includes all fitting required for installation
Includes unique billet aluminum coolant swivel fittings

AOS HOSE
The supplied coolant hose is built to SAE 30R9 standards. It will withstand coolant temperatures of +257°F.
The oil vapor hose is designed to withstand oil and fuel vapors, exceeding SAE J30R7
standards.


AOS COOLANT
Heated By Engine Coolant
Reduces Moisture & Oil Mixing

The body of the IAG V3 AOS features an integrated coolant chamber that heats the entire AOS to the same temperature of the engine. This cast aluminum can holds more heat which maximizes the evaporation of any condensation collecting inside of the can. The hotter the AOS, the less condensation will collect inside and mix with the oil.


AOS MOUNTING
Multi-point Adjustable Mounting Bracket

The center bracket allows for adjustable mounting. If your engine bay changes, you can easily change how and where you mount the AOS. The V3 AOS body features a greater number of mounting holes enabling a wider range of adjustment. A single, laser-cut, mounting bracket is included that fits nearly all applications and configurations.

A laser cut harness relocation bracket is also included. The bracket allows the engine harness connector to be moved forward for additional clearance.

AOS IN THE BOX
Ready To Install
Hardware, Lines & Fittings Included
The AOS arrives completely assembled and ready for immediate installation. However, the entire unit can be broken down for cleaning. With a single allen wrench, you can remove two bolts and the AOS easily separates into individual pieces.


FAQ:
Q: Why do I need an AOS?
A: In stock configuration, the un-baffled crankcase pressure is re-circulated back into the intake stream.

This can be harmful for two reasons:
Oil vapor mixed with the intake air effectively lowers the overall octane rating of your fuel. The more oil vapor that is sucked back into the engine, the more likely you are to experience engine knock (also referred to as detonation) that can destroy an engine.
            2. Oil vapors cause oil & carbon build up over time. The intercooler, intake manifold & intake valves suffer the worst.                    This oil vapor can create air turbulence that leads to various running issues.

Q: What are the factors that cause oil in the crankcase vent system (CCVS)?
A: There are a variety of factors that determine how much oil will be in the CCVS. The most significant of these factors are boost pressure, piston to cylinder wall clearance and oil viscosity. Smaller factors include ambient temperature, engine temperature, piston ring condition, and valve guide condition.

Q: What's the difference between a catch can & the IAG AOS?
A: Catch cans are an air/oil separator that does not actively drain the collected oil back into the engine lubrication system. Most catch cans require you to drain the contents out manually. By nature, a turbocharged boxer engine will produce significantly more oil in the CCVS than other engines of similar displacement.

Q: Which AOS is right for my vehicle?
A: The Street Series AOS maintains or improves the functionality of the original PCV system and may be installed on street driven vehicles subject to EPA emissions standards. The Street Series AOS provides optimal oil separation and venting performance for vehicles, including unregulated competition applications, up to 600 WHP and those fueled by E85 or other high-ethanol fuel blends. The Street Series AOS protects from ethanol caused oil dilution and resulting extremely frequent oil change requirements. Pulling vacuum via the Street Series recirculating design to the inlet is ideal for ethanol fueled competition vehicles, removing ethanol vapors from the crankcase and returning them to the intake system for complete combustion. Please note that the IAG AOS is not compatible with most aftermarket strut tower bars.

Competition Series AOS are "Competition Only" components for installation exclusively on "Competition" vehicles or "Racing" vehicles not subject to pollution control. IAG recommends the Competition Series AOS for Competition vehicles with greater than 600 WHP output. The Competition Series AOS prevents any oil suspended in the PCV gases from re-entering the turbo inlet but requires calibration or tune changes. Select a Street Series AOS if you prefer not to retune your Competition vehicle for this upgrade. For Competition vehicles, follow your engine builder's maintenance directions, but perform oil changes before every race or practice event .

IAG is not offering any Competition only components for installation on street driven or regulated applications. Installing a Competition Series AOS on a vehicle other than a Competition vehicle used solely for competition motorsport may be violation of the federal prohibitions against "Tampering" provided in CAA§ 203(a)(3)(A), 42 U.S.C. § 7522(a)(3)(A), 40 C.F. R. § 1068.101(b)(I) and "Defeat Devices" in CAA§ 203(a)(3)(B), 42 U.S.C. § 7522(a)(3)(B), 40 C.F.R. § 1068.101(b)(2).

* The IAG AOS is not compatible with most aftermarket strut tower bars.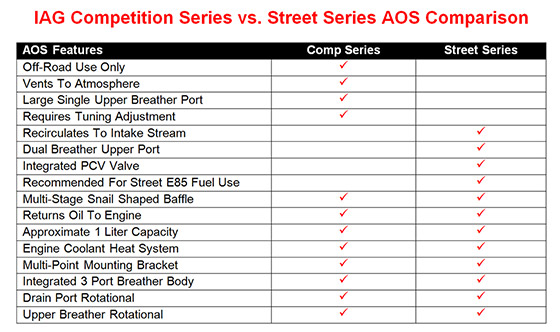 * The IAG AOS is not compatible with most aftermarket strut tower bars.
FREE SHIPPING on orders of $200 or more*
Simply look for the logo to enjoy free shipping on selected items throughout the store. Oversized packages and freight shipments do not qualify for free shipping. If the items in your order which qualify for 'Free Shipping' total $200 or more, your order ships FREE! Free shipping is only available to the continental United States also referred to as the "lower 48 states".
Shipping Policy: All products sold on the shopping cart are shipped by UPS or USPS. All packages include shipping insurance in case they are lost or damaged. USPS requires signature confirmation on all insured orders over $200.00. USPS shipping times are estimated and not guaranteed. UPS tracking numbers are automatically generated when a package ships and the number is sent to the email address you provided. If a package contents is damaged during shipping please notify the shipping driver and file a claim with the shipper. You have 14 days to inspect your shipment and contents. After that period of time, IAG is no longer responsible for missing items. You have 30 days to report any damaged or incorrect items, after that period of time Bleeding Tarmac is no longer responsible for returns or exchanges. You can contact us by Email or call 201-442-0580 for assistance. *International orders are subject to customs charges, duties or fees. Please check with your local customs office before ordering. IAG is not responsible for international customs charges, duties or brokerage fees.
IAG Performance Product Warranty (Excluding - Short Blocks / Long Blocks)
This limited warranty gives you specific legal rights and you may also have other rights, which vary from state to state. We limit the duration and remedies of all implied warranties, including, without limitation, the warranties of merchantability and fitness for a particular purpose to the duration of this express limited warranty. Some states do not allow limitations on how long an implied warranty lasts. The remedies described below are your sole and exclusive remedies and our entire liability for any breach of this limited warranty. Our liability shall under no circumstances exceed the actual amount paid by you for the product, nor shall we under any circumstances be liable for any consequential, incidental, special or punitive damages or losses, whether direct or indirect.

This warranty covers defects in materials and workmanship of your IAG Performance Product for 12 Months or 12,000 Miles from the date of receipt.

IAG will repair any IAG Manufactured Product that proves to be defective in materials or workmanship within the warranty period. If a repair is not possible, we will either replace your Product with a new Product of similar composition and price, or refund the full purchase price of your Product, at our sole discretion. There is no charge for inspection but the buyer is responsible for shipping charges.
Our team at Bleeding Tarmac is working hard to offer you the best prices and the lowest shipping cost. Because we are offering products at MAP, we unfortunately have to charge shipping fees on some items. 
Honesty is the best policy - Let's be honest, shipping is not easy and can be pricy. Here at Bleeding Tarmac, we will not hide shipping cost in sale prices. Our automated check out service provides the best estimate, but don't be shy and contact us to get the lowest shipping quote possible.
If you have specific shipping needs, please contact us before ordering.
Oversized, overweight and/or special items may require additional shipping fees and include, but are not limited to : rollcage kits, batteries, seats, tires and wheels. You will be contacted with the actual shipping charges before your order is processed. 
Where do we ship?
We ship to all states located in the continental US.
We do offer shipping to other states or Canada but quotes will be provided on demande only.
Shipping Delays
Order as early as possible if you want same day shipping.
Order products usually ship within 1-3 business days.
Rally Innovations Rally Light Bars that are in stock will within 3-5 business days. Some products may take longer and we will make sure to contact you if it's the case.
Broken Motorsports products shipping delays vary and we will contact each customer.
To accelerate the shipping process, parts will be shipped from remote warehouses located throughout the United States. Orders may ship in multiple boxes and/or from multiple carriers.
Special orders or out of stock items may take longer and we will inform the customer by email once we have a estimated delay.
Damaged/Lost Items
Items are carefully packed and sealed to prevent damage in transit. Loss or damage claims must be taken up with the carrier. If a shipment is lost, mis-routed, or damaged we will start an investigation with the shipping carrier. Replacement items cannot be sent until the shipping carrier completes their investigation.
Fluids & Fire Suppression Systems
Shipping restrictions apply to all fluids and fire suppression systems. These items will only be shipped by ground.
BRAID Wheels
ADDED Shipping fees might be required after ordering BRAID WHEELS.
Because of the container shortage and unreliable delays of maritime transport, we only drop ship wheels directly from the manufacture in Spain at the moment.
Shipping fees calculated at check out are ESTIMATED only. 
Customer will be contacted after completing the order, BUT before we process payment, to confirm availability, shipping options, and rate. 
** Return & Cancellation are usually impossible since most wheels are made to order. Cancellations are ONLY possible if made BEFORE the production begins. Please contact us to verify if anything is possible. **
Samsonas Motorsport
Lead Time

Unless in stock, order lead time : 4 to 10 weeks

Longer lead times apply during the rebuild season.

Samsonas products are often customized for your car and are shipped from Europe, therefore lead times can vary and occasional delays can occur. 

Please order with plenty of time in advance.

Order Cancellation

Cancellation fee 25%

No returns.
Rally Innovations
All Rally Innovations products requires a signature on delivery.
In stock Items will be shipped within 5 business days. Customer will be contacted if shipping delay is expected to be longer. 
Cancellation
We reserve the right to charge a 5% cancellation fee for higher dollar orders.
Cancellations may be allowed under certain conditions. Once the order has been packaged and a tracking number has been created a cancellation will not be allowed. Special order items cannot be canceled at anytime once the order is processed. 
Return Policy
If you refuse or return your delivery, the buyer will be responsible for the original shipping charges. Exchanged items will be charged shipping fees.
Our team is here to assist you in your purchase. Please take advantage of our knowledge before you order. 
Within 30 days from the receipt of you order, certain items can be approved for return if unused, uninstalled, undamaged, and in the original packaging. Items must include all hardware, instructions, tags, or other original included accessories.
All returned items must be approved and issued an RMA number (returned merchandise authorization). No credit will be issued without a RMA number.
Items must be properly packaged for shipping. We reserve the right to charge a restocking fee or decline issuance of credit for damaged retail packaging. Customer is responsible for return shipping fees.
Please use a trackable service for you return such as UPS, FedEx, or certain USPS services. Return shipments should be insured for the proper amount. Bleeding Tarmac will not be held responsible for returns that are lost or damaged in shipping.
Once the item is received and inspected, a credit will be issued. Refunds may take 3-5 business days to post on your account. 
All refunds are subject to a processing and/or restocking fee. 
No returns on the following: Special order items, any electronic components, helmets, clothing articles, items considered clearance or close-outs, or items with special pricing, are final sale and may not be returned. 
Apparel and promotional items
All apparel and promotional items, including hats, t-shirts, sweatshirts, stickers... are final sales. No returns, exchanges, or refunds will be issued on these items.
Warranties
We offer no warranty above that of the manufacturer of goods sold. In an effort to minimize legalese we offer the following statement. Each brake parts manufacturer warrants it's goods to be fit and free from defects in materials and workmanship. This is quite limiting. Any warranty above and beyond that is strictly on a case by case basis and limited to replacement of equal value only.
Others
Coupon codes can only be redeemed at the time of purchase. Once an order is placed we will not price match any other competitors, all price matching must be negotiated before an order is placed.
We reserve the right to refuse any order for whatever reason, without being liable for any damage or costs.
Disclaimer
Most products on our websites are designed for off-road use, and to be used at the purchaser's own risk and discretion. Bleeding Tarmac, Broken Motorsports, or any of its companies are exempt from any liability, and will be held harmless for any damage incurred, either property damage or personal harm, by the use of any of these products, whether being used for off-road use, or for use on public roads. While some of these products may be legal for use on public roads, Bleeding Tarmac, Broken Motorsports, or any of its companies do not endorse, authorize, or sanction their use on such public roads.